Exploring the Enchanting Flavors of Ceylon Tea
Introduction: Welcome to our blog, where we embark on a delightful journey into the world of Ceylon tea. With its rich heritage and unique flavors, Ceylon tea has captured the hearts of tea enthusiasts worldwide. Let's delve into the fascinating story and flavors of this exceptional tea.
History and Cultivation: Ceylon tea, also known as Sri Lankan tea, has a captivating history. Introduced during the British colonial period, tea cultivation flourished in the lush hills of Sri Lanka. The island's diverse regions, including Nuwara Eliya, Uva, and Dimbula, offer distinct flavors and characteristics thanks to their unique geography and climate.
Varieties and Flavors: Ceylon tea offers a delightful range of varieties to suit every palate. From robust black teas to delicate green teas, each variety presents a captivating flavor profile. The black teas boast bold and full-bodied flavors, while the green teas exhibit a delicate and refreshing taste. Discover the nuances of fruity, floral, malty, and spicy notes that make Ceylon tea a true delight.
Health Benefits: Aside from its exquisite taste, Ceylon tea offers numerous health benefits. Packed with antioxidants, it aids in fighting free radicals and promotes overall well-being. Additionally, Ceylon tea may support weight management, heart health, and digestion, making it a wholesome beverage choice.
Brewing Tips and Tea Culture: To savor the optimal flavors of Ceylon tea, follow some simple brewing tips. Adjust water temperature, steeping times, and brewing methods based on the variety you're preparing. In Sri Lankan culture, tea plays a significant role. The tradition of afternoon tea is a cherished ritual, and the tea estates contribute to the country's economy.
Conclusion: As we conclude our exploration of Ceylon tea, we invite you to experience its enchanting flavors. Indulge in the richness of Ceylon tea's history, savor its diverse flavors, and embrace the tea culture it embodies. Whether you're a seasoned tea enthusiast or new to the world of tea, Ceylon tea is sure to captivate your senses and leave you longing for another delightful cup.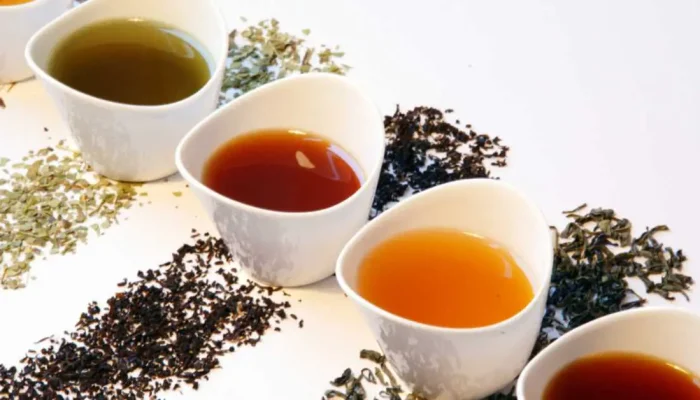 Types of Teas To Try in Sri Lanka
Sri Lanka, formerly known as Ceylon, is renowned for its high-quality tea production. The country's diverse climate and elevation variations create the ideal conditions for cultivating different types of tea. Here are some types of teas to try in Sri Lanka: Ceylon Black Tea: This is the most common type of tea produced in Sri Lanka. It comes in various grades and flavors, ranging from mild to robust. Popular variations include Dimbulla, Uva, and Nuwara Eliya teas. Ceylon Green Tea: While not as commonly produced as black tea, Sri Lanka also produces green tea. It has a milder flavor compared to its black counterpart and is known for its potential health benefits. Ceylon White Tea: White tea is made from the youngest leaves and buds of the tea plant. It has a delicate flavor and is minimally processed, making it a sought-after specialty tea. Ceylon Oolong Tea: Oolong tea is partially oxidized, falling between green and black tea. It has a unique flavor profile with a range of floral and fruity notes. Ceylon Silver Tips Tea: Also known as "Silver Needle" tea, this is a rare and highly sought-after white tea made from only the unopened buds of the tea plant. It has a subtle, sweet flavor. Ceylon Herbal Teas: Sri Lanka also produces a variety of herbal teas using local herbs and spices. Popular choices include cinnamon tea, lemongrass tea, and ginger tea. Ceylon Spice Teas: Some teas are blended with spices such as cardamom, cloves, and black pepper to create unique and flavorful infusions. Ceylon Flavored Teas: Tea blends infused with fruits, flowers, and natural flavors are also available. These can range from traditional blends to more innovative combinations. Ceylon Masala Chai: A spiced tea made by brewing black tea with a mixture of aromatic spices, usually including cardamom, cinnamon, cloves, and ginger. Ceylon Estate Teas: Single estate teas are produced at specific tea estates, each offering its unique flavor and characteristics based on the region's terroir. When visiting Sri Lanka or looking to purchase Sri Lankan teas, consider exploring the different types mentioned above. Many tea plantations offer guided tours where you can learn about the tea-making process and even participate in tea tasting sessions to appreciate the nuanced flavors of Ceylon tea.